The time has come for me to make a riding habit, another one of those projects that I've hoped to make for
so long,
maybe even longer than any other project. As a child, much before I got into costume making, I used to be interested in pirates as well as naval history. So I've been hoping to make a naval inspired riding habit ever since I realized it would be a much better option than making a naval officer's uniform for myself. The design started to evolve when I stumbled upon a naval inspired riding habit on deviantArt but the original photo got deleted from the site a long time ago so I can't link it here. But I had to mention it anyway because I don't want to take credit from something that wasn't originally entirely my idea.
Anyhow, my major source for inspiration comes from the naval uniforms of National Maritime Museum, which I visited a few years ago. My favourite type of uniform is
the full dress uniform of a captain, from 1774
. If you've read
my post about the floral robe à l'Anglaise
, you surely understand why. The reason why I didn't start making a riding habit earlier than this is that I hadn't found suitable wool for it. But a few months ago I did, when I was out visiting the local fabric stores with
Noora
. I also hadn't found good linen for the habit shirt, but
Couture Mayah
kindly sent me some linen for it some time ago. The only material I'm still missing is the trim but I'm ready to start making the outfit now because I can order it later.
At first, I wanted to make the outfit in the 1770s style so I had already bought
a pattern for it from Reconstructing History
, but after seeing this painting, I changed my mind. Especially because I still have some fabric left from
the recent robe à la Francaise
that I plan to use for
the waistcoat
. The details that I love about this painting in particular: The lace collar with a black bow.
And the mariner's cuffs, plus the golden trim.
For comparison, here are some painting of men in naval uniforms.
Mrs. Epes Sargent (Catherine Osborne) also wore a blue riding habit for her portrait. But I don't like the wide ribbon tied around her neck with two bows in the front and back because it's quite large. And isn't that pale pink bow in her hair just a bit silly? Maybe she tried to add a feminine touch to the stiff, tailored outfit with it but I don't like it. I also prefer the coat open in the front so that you can see the vest.
Nancy Fortescue looks fabulous in her blue riding habit, though. I love the tassels!
This picture is very small but you can see the lady in the blue riding outfit has got a coat with ermine cuffs and collar.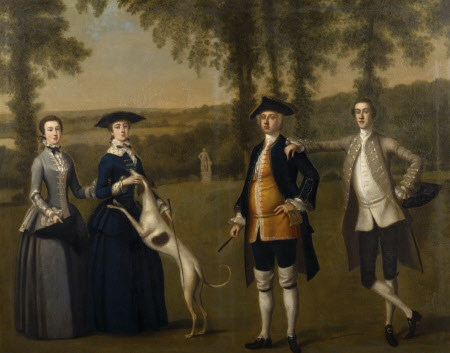 Trevelyan family of Wallington, Nothtumberland, English school (1745-50).
For more blue riding habits and uniforms, take a look at
this Pinterest board
.